Announcing Archera's Series A Funding
I am incredibly excited to share that Archera has raised a $7 million Series A funding round co-led by Ridge Ventures and Amplify Partners with participation from PSL Ventures, Mark & Josh Leslie of Leslie Ventures, and former Onica CEO Stephen Garden. Beginning the next chapter of Archera would not have been possible without our team, customers, and investors and we are grateful for their continuous support.
Our Journey So Far
From day one, our goal has been to empower customers to harness their full potential to rapidly innovate using the cloud. In our first year as an organization, we created a solution that used ML to scour through millions of different scenario forecasts and commitment purchasing strategies to find the optimal one for our customers.
Finding the most savings was simply a byproduct of fixing the right problem - enabling teams to operate dynamically on the cloud.
We realized the key to our success wasn't just our ML optimization, but the fundamentally different approach we took to solving our customers' problems. Unlike other tools available at the time, we leveraged automation to remove the manual work demanded of customers and continuously adjust their resources to match the changing needs. We weren't just providing visibility to optimize costs, but actually simplifying and supporting the entire process of managing cloud resources while maximizing flexibility for engineering. Finding the most savings was simply a byproduct of fixing the right problem - enabling teams to operate dynamically on the cloud.
In the last year we have strengthened features for AWS users across the entire cloud resource management process and began rolling out early support for Azure and Kubernetes. This meant building out tools to help engineering and DevOps teams plan their infrastructure, cost attribution and forecasting tools for Finance teams, and operational tools to enable cross-team collaboration and communication.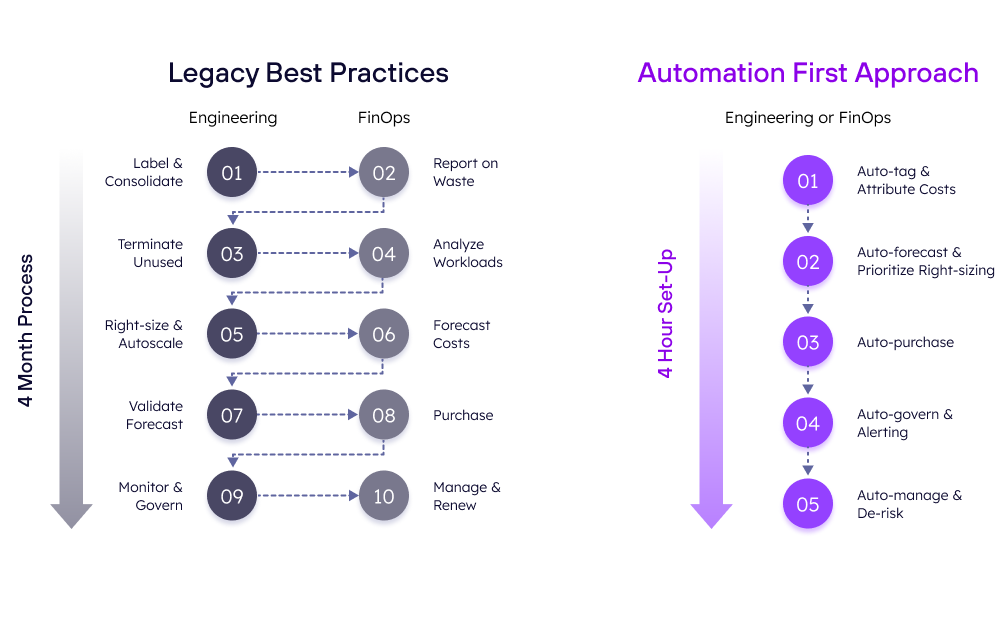 Our Next Chapter
The funding we received will be invested into further developing our platform and growing our team to get us there. Our vision is to expand our solution to address the needs of customers across all stages of the cloud adoption journey - from those who are just beginning migration to the cloud to those who are currently operating in a multi-cloud environment.
We will begin by accelerating the development of our existing solutions for AWS, Azure, GCP, and Kubernetes. Users should be able to manage the entire cloud resource portfolio, whether it be from one service provider or multiple, in one place. As we move towards becoming a single pane of glass for cloud resource management, we will build features such as cloud migration planning and advanced modeling and forecasting for multi-cloud provisioning.
Building a system that can address every challenge in cloud resource management is no easy feat, but it is one we are determined to pursue. We are grateful to our investors for seeing the value of our mission and the impact we can have on cloud customers. While there is plenty of work ahead, we are excited to be getting one step closer to enabling frictionless innovation on the cloud. If you're interested in joining us in this journey, take a look at our open opportunities.