What is a Cloud Center of Excellence and how is it different from FinOps?
The cloud represents great promise but also risk and complexity. While it's true that the cloud can benefit your company with lower infrastructure costs, greater flexibility, scalability, efficiency, accessibility, and even strategic value, the cloud is not an "out of the box" solution that you simply spin up and run. Cloud service providers exist to make money, and they ensure their profitability with purposefully complex pricing models, 300K+ SKUs and the launch of thousands of upgrades, new releases, and services each year.
As your company grows, the complexity of matching your cloud usage to your business needs creates its own challenges. This complexity makes it difficult to scale up your cloud presence in an efficient manner that is also cost effective. You may also be struggling to balance conflicting business priorities, finance priorities, and IT priorities. If your company is new to the cloud, you've likely discovered that managing your cloud operations is far more complex than advertised. You may now also understand that you lack the organizational structure to maximize your presence on the cloud.
The Cloud Center of Excellence (CCoE) has emerged as a structural process designed to centralize, drive, and govern your cloud operations with the goal of improving outcomes, managing risk, and optimizing costs. Gartner states that a CCoE is the best-practice approach to drive cloud-enabled transformation, but a CCoE is not the same as FinOps. In this article we summarize the CCoE and how it differs from FinOps.
What is a Cloud Center of Excellence?
The CCoE is attributed to Stephen Orban, who first proposed the concept in 2016. At the time, Stephen was the global enterprise strategy lead at Amazon Web Services (AWS). The original vision for CCoE stipulated that companies with a cloud presence should organize a team responsible for governing its cloud operations and IT infrastructure, and that they should lead the development of a cloud best practices framework that would be implemented throughout the company.
CCoE, then, can expansively be defined as a centralized, cross-functional team of people responsible for developing the governance framework for a company's cloud operations and IT infrastructure, cloud strategy and ensuring company-wide adoption of best practices. The CCoE can be slotted in as an enterprise architecture function and key driver for a company's cloud-enabled transformation.
Cloud Center of Excellence Responsibilities
Specific Cloud Center of Excellence responsibilities include setting the company's cloud policy, guiding its provider selection, and providing insights on its solution architecture as well as workload placement to improve outcomes and manage risk. The CCoE should proactively reach out and solicit input from business units throughout the organization, and help facilitate the adoption of new technologies that improve the company's competitiveness. CCoEs are primarily consultative both to IT and cloud services consumers within the company. A CCoE should not have daily operational responsibilities or project management responsibilities.
Mark Schwartz, an enterprise strategist at AWS and author of The Art of Business Value and A Seat at the Table: IT Leadership in the Age of Agility, as well as Milin Patel, the principal architect and co-founder of Rearc and formerly the head of DevOps for Dow Jones, provides insights on how a CCoE can transform the entire enterprise.
How is a CCoE Different from FinOps?
FinOps is generally described as "Cloud Financial Operations" or a "Cloud Financial Management Operating Model." FinOps brings financial accountability to the variable spend model inherent in the cloud, helping to change the infrastructure model from capacity planning to rate optimization analysis. FinOps compels distributed teams to evaluate the speed, cost, and quality of their cloud services. Each team assumes ownership of their cloud usage, but they do so in consultation with the company's CCoE team and in accordance with the best practices established by the CCoE.
What this cooperation looks like in the operational sense is cross-functional teams from IT, Product, and Finance working together to bring products to market faster while establishing better financial control and predictability. This is new territory for many companies, since these groups likely have never worked together in this manner before. In comparison to a CCoE, FinOps is operational and not consultative, but CCoE and FinOps together are complementary and serve to augment each other.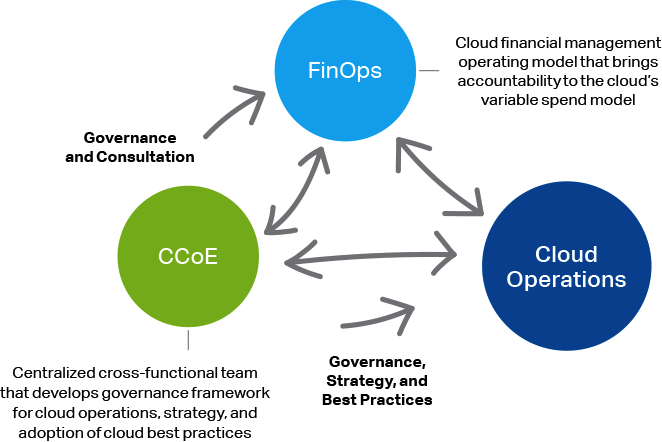 What Are the Benefits of Implementing a CCoE?
Centralizing the management and governance of your cloud operations with a CCoE delivers the following benefits:
The ability to fully realize the potential of your cloud operations based on your company's unique needs, organizational structure, and strategic objectives

Support for your entire cloud life cycle including ecosystem design, security management, compliance, and best practices

Reduced risk

Reduced operational costs

Better developer efficiency

Better security and reliability

Better agility and innovation

More effective implementation of your company's cloud-enabled transformation
What are tradeoffs in implementing a CCoE?
The fundamental tradeoff between the centralized control over cloud operations provided by a CCoE and a decentralized structure is that of agility vs. cost. Under current best practices, CCoEs are designed to slow developers down as a check on their work and with the goal of optimizing costs. In our opinion, the tradeoff between agility and cost is a false tradeoff.
If you build your CCoE with a cloud resource automation first approach that emphasizes risk mitigation, you won't have to force custodial actions on developers or slow them down with complex commitment risk decisions. Adopting an automated approach to cloud resource management requires an understanding of the automation tools and technologies that are available and how they can be used to make your CCoE more efficient and effective.
How Do You Know if You Need a CCoE?
Many companies have already adopted the cloud model, so determining whether you need a CCoE depends largely on the success of your current cloud operations. Are you confident that your cloud operations are running at their full potential? Are your operational costs, security, and agility fully optimized? Does your company consistently adhere to cloud best practices? Is there agreement as to what those best practices are? Your company's organizational maturity is another consideration, however, centralizing governance and strategy will improve your cloud resource management, regardless of how your company is organized.
A baseline to consider when evaluating the implementation of your own CCoE is when you have five or more products or a large number of cost centers. This is the point where you will start to see the benefits of a centralized cloud resource management framework and best practices—beyond those available with a dedicated DevOps/SRE function. Learn more about how you can build your Cloud Center of Excellence team.
Conclusion
A CCoE is a centralized, cross-functional team responsible for developing a governance framework for your cloud operations and IT infrastructure, establishing your company's cloud strategy, and ensuring company-wide adoption of cloud best practices. A CCoE can help you realize the full potential of your cloud resource management, improving outcomes, reducing risk and costs, while improving your company's agility, innovation, and competitiveness.
FinOps, by comparison, is tasked with your company's cloud financial operations. FinOps brings financial accountability to the cloud's variable spend model, and supports the change of the infrastructure model from capacity planning to rate optimization analysis. A CCoE and FinOps are not the same. FinOps is operational, while a CCoE is consultative to FinOps, but they are complementary and serve to augment each other.
Archera is a cloud resource automation solution that actively manages and de-risks your cloud resources through building forecasts, identifying and automatically executing optimal commitment plans, continuously monitoring these resources, and protecting them with guaranteed buybacks. Start a free trial to see how we can help your organization as it navigates the cloud resource management process.